Mailing List
Sign up for our mailing list to get notified about upcoming shows.
Sign Up
Latest news
The Love Songs featuring "Weird Al"!
May 16, 2022
Hello Lovers!
So, like, it's been a while. I hope you're doing well etc etc etc…
The pandemic really put a crimp in our lifestyle of playing shows, making records, hoping our cars weren't getting broken into during band practice, and posting videos that a number of our 2.4M Facebook followers inexplicably deem inappropriate. In fact, we had just put out a record – "The Loneliest Whale" – before lockdown and, besides a short road trip with the Subhumans, we never really got to tour-promote that record.
Dominic – he who runs Blonde Medicine, the label who released "The Loneliest Whale" – came up with a comically ambitious alternative promotional tactic…
Dominic: "Think The Beatles "Help" meets an episode of "Scooby Doo"
Us: "Dude, that's ridiculous. Ok, we're in."
So we've spent the last year working with longtime The Love Songs' love interest, Mike Foxall, toying, tinkering, and toiling over this, our first animated film. It features some really special people, like Kirk Hammett (Metallica), Dexter Holland (Offspring), and Nardwuar (Vancouver, British Columbia, Canada) among others. It is currently In A Relationship with the film festival circuit so we don't have a release date, but we would like to share this trailer.
Love,
Songs
P.S. Oh, right, did I forget to mention – THIS ALSO FEATURES "WEIRD AL" YANKOVIC!!!!!!!!
---
New Record Alert!
February 18, 2022
This was going to be the first in Alcoholoscott's new series of releases, but he sadly never got to see it. All proceeds will now go to Scott's Depth Charge Memorial Fund. Limited pressing, currently only available at Thrillhouse Records, San Francisco, CA.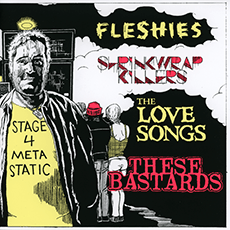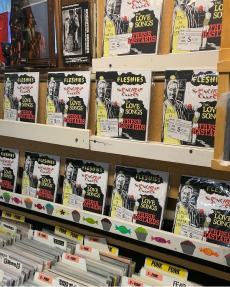 ---
Bastida music video
February 10, 2022
A new video for an old song: "Bastida", from the album "Oh, the Places You'll Go Wrong."
---
Love Songs of the Month
July 12, 2021
Along with every one else in the world things have been pretty quiet in The Love Songs world. We do not have any shows planned for the moment as two of us no longer live in California. However, you can still get your fix of The Love Songs adjacent music from Cragiums on TheBadCopy.com.
---