Mailing List
Sign up for our mailing list to get notified about upcoming shows.
Sign Up
Latest news
Love Songs of the Month
July 12, 2021
Along with every one else in the world things have been pretty quiet in The Love Songs world. We do not have any shows planned for the moment as two of us no longer live in California. However, you can still get your fix of The Love Songs adjacent music from Cragiums on TheBadCopy.com.
---
Slayer!
December 23, 2020
For those that missed the 3rd Annual Year of the Fitmas that took place December 20, 2020, which was a benefit for the Ivy Room in Albany, CA. You can now watch our contribution to the evening on YouTube.
---
3rd Annual Year of the Fistmas
December 18, 2020
We are happy to be taking part in the 3rd Annual Year of the Fitmas happening this Sunday, December 20, 2020. This is a benefit for the Ivy Room in Albany, CA. Check it out on: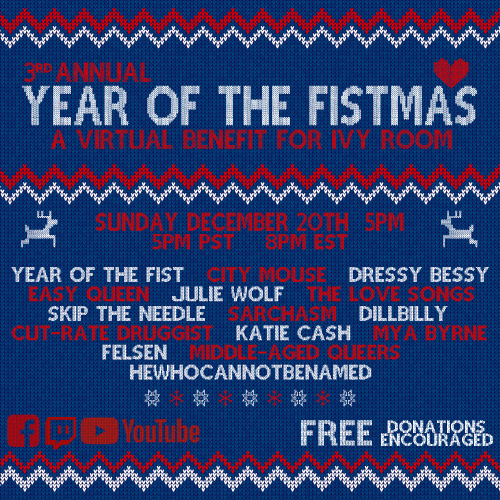 ---
New music video
April 24th, 2020
Howdy stay-at-homers,
We just made a video for the opening track of our latest record in honor of New Release Day, and also our canceled whirlwind worldwide tour of the greater Bay Area which we'd be finishing about now. It is culled together from over 80 different live recordings of the song from camcorders, webcams, GoPros, cell phones, closed circuit TVs, DSLRs, and security cameras.
The record, you neglect to ask, is still available from these fine outlets!
Stay safe and healthy and whatever else gets you to go,
The Love Songs
---
April has cooled down
March 24th, 2020
As you well know, the world is ending and everything has been canceled, including the shows we had lined-up for April.
---
April is heating up
February 18th, 2020
Mid-April is shaping up to be, in the words of Rob Thomas, a hot one. The Love Songs are booking shows here and there with a speed and efficiency not seen since October 2019. While you wait for these shows to happen, spend the next month listening to our discography over and over again.
---
Two shows in January
January 7th, 2020
We are starting 2020 off with live-show blitz of playing not only one but also a second show. Come out early to see us play this Saturday, Jan 11th, at Slims opening up for Good Riddance. Then later in the month, come see us play at the Golden Bull in Oakland with Field Day (Dag Nasty)